Pause Consultancy has a strong Associate relationship with Stonewall, the UK's leading Lesbian, Gay and Bisexual (LGB) rights organisation.  Jo Bostock is the Associate Director of Stonewall Leadership, which runs all of Stonewall's leadership development activity.
"Jo Bostock delivers the Stonewall leadership programme and accompanying work. During the last six years Jo has worked with us to develop pioneering insights into the impact that sexual orientation has on leadership and has enabled Stonewall to work with our 600 Diversity Champions to support their gay staff to achieve their potential. Jo has applied and developed the theories around authenticity to demonstrably improve the productivity of over 250 people both through targeted programmes and executive coaching. Her contribution has enabled Stonewall to be the international thought leaders on inclusion, productivity and leadership."
Ruth Hunt, Director of Policy and Public Affairs, Stonewall
[hr]
Programmes
Annual Leadership Programme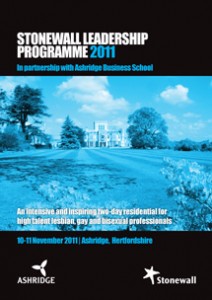 Run in partnership with Ashridge, the Leadership Programme is the most prestigious leadership course specifically designed for high talent lesbian, gay and bisexual professionals in the UK.  Its underlying premise is that people perform better when they can be themselves.
The 2 day intensive residential provides a challenging but safe space for LGB leaders to explore what it means to be authentic in the workplace and the implications of being a role model.
Participants are encouraged to exchange insights based on their experiences and to develop robust reflective habits.  They are also able to access inputs around authentic leadership, work-based research and the impact of organisational systems.  As a result participants are able to engage in a process that helps them to define their own way of leading which is resilient, effective and deeply connected to personal identity.
In-house leadership programmes
Drawing on the content and processes used in the main leadership programme, Pause have also supported Stonewall in designing and delivering highly customised in-house programmes for organisations such as Accenture, J.P. Morgan and Morgan Stanley. Here we are able to focus on creating organisational change, in particular through the engagement of Board level sponsors.
Participants combine working on their own leadership with making recommendations to their organisation about how best to progress the diversity and talent agenda.  Outcomes have included the establishment of a senior level Straight Allies group, reinvigorating an employee network group and changing a performance management system to measure inclusive leadership behaviours.
Sector specific programmes
Bringing together professionals from a specific sector offers the potential for creating cultural change beyond a single organisation.  The Stonewall NHS Leadership programme is the best example of this and the first of its kind in England. From the outset the intention was to help ensure that the health service has lesbian, gay and bisexual leaders in key positions who can inspire others, and leaders at the point of care who can innovate to improve patient services and assure quality.
[hr]
Coaching
1:1 coaching, particularly for very senior LGB leaders, enables them to access an entirely confidential environment where they can explore the way their sexual orientation affects them as leaders.  We are able to test the choices they make about  their leadership narrative – in particular what gets edited out or played in and the consequences.  We look at the subtleties of their working context and move beyond glib assertions to "always be out".
The coaching is also not "just about the gay stuff" – it encompasses the broader challenges and opportunities being experienced by the leader and how best to navigate these.  As with all of our coaching there is also a strong emphasis on encouraging a habit of reflection, so that leaders can extract insights from their day-to-day work.
Most importantly we actively enquire into how LGB leaders are able to bring the best of themselves to their role – not least in forging strong working relationships.
[hr]
Thought leadership
Stonewall's credibility is partly informed by the quality of its research and guidance.  Pause helps to feed into this, for example in conducting IBM sponsored research into the effect of role models involving  1:1 interviews with 15 leading LGB professionals.
Pause also contributes to Stonewall's Annual Workplace Conference, running sessions on authentic leadership, role modelling and creating systemic change.
Contact
You can speak to us about the work we do in association with Stonewall, or contact them directly to discuss this with Ashley Thomas 
who heads up the Leadership work at Stonewall.