We believe that authentic and inclusive leaders know what they stand for and have a knack for realising their own distinctive abilities.  Even better, they create an environment for others to do the same.
At Pause Consultancy we create spaces for leaders to think well.  Safe, provocative, thoughtful spaces which temporarily quieten the hubbub of the modern organisation.  In this "pause" we are able to engage leaders in 1:1 and group conversations where they can identify what being authentic and inclusive means in practice.
Inclusive leadership can make a decisive difference in attracting, retaining and developing talented people.  We provide leaders with the support and challenge necessary for them to shape high performing, diverse organisations.
We have worked with international businesses like accenture, Microsoft and Bank of America Merrill Lynch, top academic institutions including the University of Cambridge, leading media and cultural organisations such as the Telegraph Media Group and The National Theatre, through to influential third sector clients like Stonewall and UNICEF.  We also work with individual business owners and entrepreneurs.  You can read what our clients say about us here.
Spotlight on…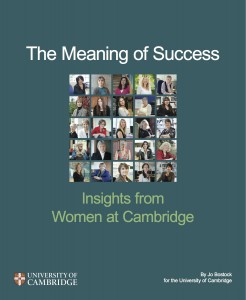 The Meaning of Success: Insights from Women at Cambridge
We have recently worked with the University of Cambridge to research and write a book that makes a compelling case for a more inclusive definition of success. It argues that the current criteria we use to judge people as successful are both too narrow and create a career advantage for men.  In order to recognise, reward and realise the talents of both women and men, a more meaningful definition of success is needed. Read more here. 
Pause Consultancy is a proud sponsor of the Women's Sport Trust.
Women's Sport Trust is a grass-roots movement of ordinary people and progressive organisations supporting women in sport. We aim to raise the visibility and increase the impact of women's sport through role models, media coverage and funding.